Battery Range and Specifications to Download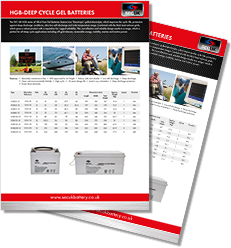 SEC UK series of HGB - Deep Cycle Gel batteries
The SEC UK HGB series of VRLA Pure Gel Batteries feature true 'thixotropic' gelled electrolyte, which improves the cyclic life, protection against deep discharge conditions, ultra low self-discharge and wide temperature range.
Combined with the thick lead calcium grids, which gives a robust product with a reputation for rugged reliability. This cost effective and reliable design results in a range, which is perfect for all deep cycle applications including off-grid telecom, renewable energy, mobility, marine and motive power.
Summary of HGB Battery Range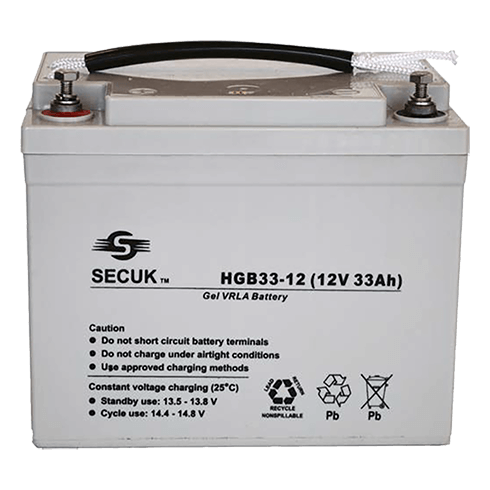 SEC UK - HGB - Deep Cycle / Pure GEL Batteries
The SEC UK HGB Pure Gel Battery has design features such as true thixotropic gelled electrolyte to improve cycling capability, offering deep discharge operations, high number of cycles, up to 30 days discharge protection and can be used in any position with a wide temperature range.
With a design life up to 10 Years the HGB Battery is of robust construction where the electrolyte is suspended within a Silicon Gel, this holds the lead plates firm under any shock and vibration conditions.
The HGB Gel battery incorporates valve regulation technology giving high cyclic capability, deep discharge characteristics with deep discharge protection; our range of Gel batteries are highly suited for cyclic applications, critical energy and high discharge applications. SECUK Gel batteries best operate between temperatures of -30°C to +45°.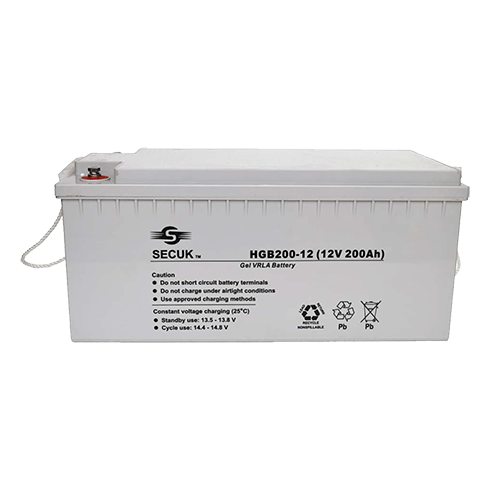 Features of range
Absolutely maintenance free
IATA approved for Air Freight
Robust, safe and reliable
Low self-discharge
Deep discharge
Clean and environmentally friendly
High cyclic
>8 years design life
Used in any orientation
Deep discharge protection
Screw down terminals