Charge Controller Range and Specifications to Download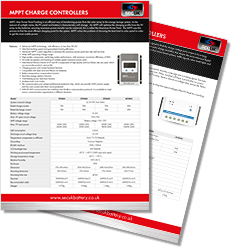 Charge Controllers
SEC UK offer a range of charge controllers (battery regulators) designed to limit the charge voltage and current to the energy storage systems or batteries.
Summary of Charge Controller Range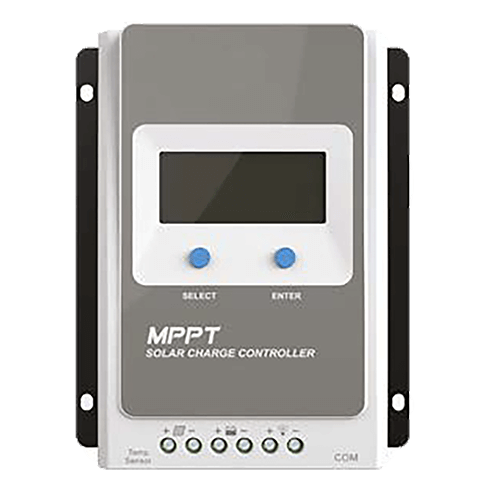 SEC UK MPPT Charge Controllers
MPPT; Max Power Point Tracking is an efficient way of transferring power from the solar array to the energy storage system. As the amount of sunlight varies, the PV panel and battery's characteristics will change. An MPPT will optimise the charging profile from the PV array to the batteries, ensuring maximum power transfer can be achieved, this is called the Maximum Power Point. The MPPT uses this process to find the most efficient charging point for the system. MPPT solves the problem of choosing the best load to solar panel in order to get the most usable power.
Range Features:-
Advanced MPPT technology, with efficiency no less than 99.5%
Ultra-fast tracking speed and guaranteed tracking efficiency
Advanced MPPT control algorithm to minimize the maximum power point loss rate and loss time
High quality components, perfecting system performance, with maximum conversion efficiency of 98%
Accurate recognition and tracking of multiple-peaks maximum power point
Wide MPP operating voltage range
Charging power and current limitation function
Compatible with lead-acid and lithium-ion batteries
Battery temperature compensation function
Real-time energy statistics function
Overheating power reduction function
Multiple load work modes
International famous brands of ST and IR's components of high quality and low failure rate are used, which can ensure the product's service life
The communication port adopts professional protection chip, which can provide 5VDC power supply, and has over-current and short-circuit protection
With RS-485 communication bus interface and Modbus communication protocol, it is available to meet various communication requirements in different situation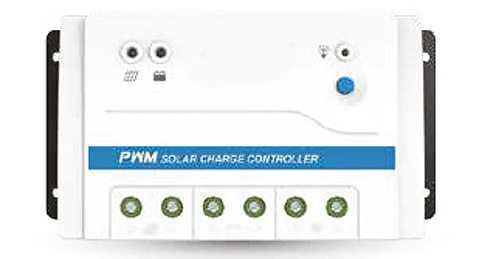 SEC UK PWM Charge Controllers
A PVM Charge Controller is an efficient solar charge controller that adopts the most advanced digital techniques. The multiple load control modes enable it to be widely used on solar home systems, traffic signals, solar street lights and solar garden lamps.
Pulse-width modulation PWM, or pulse-duration modulation, is a technique used to encode a message into a pulsing signal. The main advantage of PWM is that power required by the unit (the power load) is very low. When switched off there is practically no current being drawn, when it is switched on and power is being transferred from the PV array, there is almost no voltage drop across the PWM device.
PWM regulates the input voltage to the battery by using pulse width modulation to drop the output voltage of the PV Panel to a working 13.8 volts.
Range Features:-
Adopt high quality components of ST, IR and Infineon ensuring product lifespan
Terminals have UL and VDE Certification, the product is safer and reliable
100% input and output in the environment temperature range
3-stage intelligent PWM charging: Bulk, Boost/ Equalize and Float
Supports 3 charging options: Sealed, Gel, Flooded and User
RS485 communication interface and Modbus communication protocol
Battery temperature compensation function
Energy statistics function
Multiple load control modes
Extensive Electronic protection