Battery Range and Specifications to Download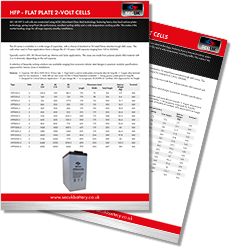 SEC UK series of - HFP - FLAT PLATE 2 - Volt Cell Batteries
SEC UK HFP 2-volt cell batteries are constructed using AGM (Absorbent Glass Mat) technology, featuring heavy duty lead calcium plates technology, giving Long Float Life performance, excellent cycling ability and a wide temperature working profile. This makes it the market leading range for all large capacity standby installations.
Summary of HFP Battery Range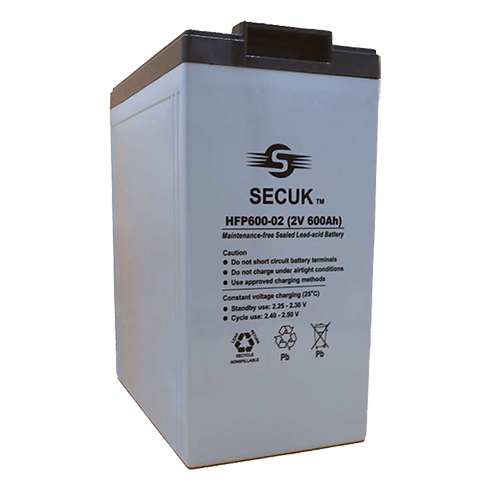 SEC UK series of - HFP - FLAT PLATE 2 - Volt Cell Batteries
The 2V series is available in a wide range of capacities, with a choice of standard or V0 rated flame retardant tough ABS cases. The cells when used in Float-applications have a design life of >15 years. Cell capacity ranging from 100 to 3000Ah.
Typically used in UPS, DC Power back-up, Marine and Solar applications. The cases are made from polymer plastic ABS material with 2 or 4 terminals, depending on the cell capacity.
A selection of bespoke racking solutions are available ranging from economic tubular steel designs to premium modular specifications approved for Seismic Zone 4 installations.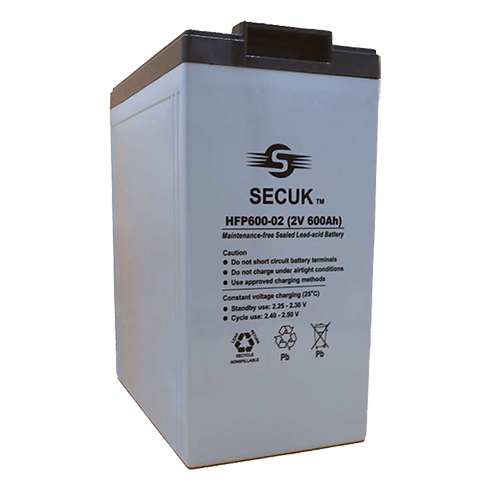 Features of range
Capacity 100 Ah to 3000 Ah at 10 hour rate
Virgin lead is used to make plates and paste alloy for long life
Copper alloy terminal insert for low resistance
Solid ABS jar and covers (UL94V-0 Flame Retardant available)
Strong gravity casted grids for long life
Designed for Critical Telecom Application > 15 year design life
UL recognised, IEC60896-21 Certified, IATA Approved for Air Freight